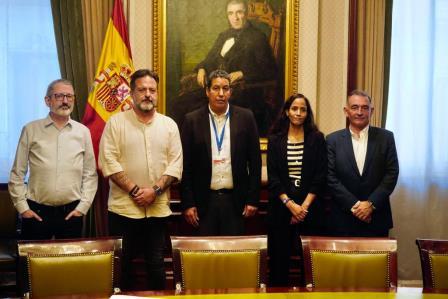 Madrid, 11 October 2023 (SPS) - Spanish political parties that are members of the Sumar coalition have reiterated their support for the right of the Sahrawi people to self-determination, as recognized by the United Nations.
The political parties held a meeting on Monday at the Spanish Congress with the aim of "coordinating the work of defending the Sahrawi people within the political space of Sumar." During the meeting, the parties called on "Spain to assume its historical responsibilities to the Sahrawi people."
Present at the meeting was the representative of the Polisario Front in Spain, Abdullah Al-Arabi, who urged the political forces to pressure the Spanish Prime Minister, Pedro Sánchez, to "return to the path of international law."
The diplomat stressed that "the Sahrawi people and the solidarity movement hope that the Sahrawi cause will be included in the action plan of the new Spanish government" because Madrid, he said, must "take concrete and consistent measures in line with its legal and historical responsibility in the decolonization process."
During the meeting, the deputy from Mas Madrid, Teslem Sidi, noted that "the Sumar coalition, with all the parties that make it up, presented itself in the last elections to implement ambitious social policies and a strong defense of human rights. That is why, from Sumar, we reaffirm our support and continue to work for the self-determination of the Sahrawi people, within the framework envisaged by the UN resolutions, and in compliance with international law and human rights."
The deputy affirmed that "it is essential to demand respect for human rights in the occupied areas of Western Sahara, justice, and the protection of fundamental rights."
The parliamentarian stressed the need to "bring this positioning of the Sumar group, based on international law, to the negotiating table to outline the lines of Spanish international policy."
For his part, the head of international relations for Sumar, Carlos Corrochano, recalled that the political forces of the coalition have reaffirmed their "attachment to common principles," highlighting the Sahrawi issue as an "element of unity" within the group.
At the center of Sumar's agenda, according to Corrochano, is the "determination to reverse the position of the PSOE (Spanish Socialist Workers' Party of Sánchez) on Western Sahara." For Sumar, the right of the Sahrawi people is at the center of concerns, supported notably by rulings of the European Court of Justice (ECJ).
In statements to the press, the European parliamentarian, Manu Pineda, recalled that "Sánchez's position on Western Sahara did not represent either the governing coalition or the Congress of Deputies, which approved a resolution against the reversal" of Madrid.