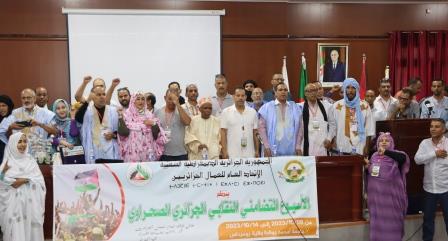 Boumerdes (Algeria), October 11, 2023 (SPS) - The participants in the Algerian-Sahrawi Trade Union Solidarity Week organized yesterday a stand in solidarity with the Sahrawi masses in the occupied territories as an expression of their unconditional solidarity with all Sahrawi detainees, especially the "Gdeim Izik" group.
During the stand in organized on the occasion of the thirteenth anniversary of the Gdeim Izik camp, the participants stressed that the Sahrawi people are one body and Moroccan violations will not deprive them of continuing the struggle until national sovereignty is restored over the entire territory of the Sahrawi Republic.
The participants chanted slogans of solidarity and support for the Sahrawi masses in the occupied territories. They also listened to a speech by Sahrawi human rights activist Ali Salem Tamek, in which he spoke at length about what is happening to the defenseless Sahrawis in terms of oppression and abuse committed by the Moroccan repressive forces, stressing that this will not deprive them of continuing the liberation march until the completion of the process of decolonization.
Ali Salem Tamek added that the Makhzen forces committed "terrible crimes with all brutality and barbarism" against the peaceful Sahrawis in the "Gdeim Izik" camp, including killing, displacement, insults and attacks on civilians and their property, in what could be considered crimes against humanity, adding that the Sahrawi people remember those crimes and "the detainees remain the greatest witness to the suffering caused by the Moroccan occupation."